Add to favorites
Yu-Gi-Oh World Championship Tournament 2004
The greatest Yu-Gi-Oh! card battle of all time is here! Featuring over 1,100 unique game cards and the most current rule set, World Championship Tournament will take you to Yu-Gi-Oh! paradise!
As Always, Good Luck and Have Fun.
Instruction:
Push ENTER on your keyboard to Start.
Only keyboard is required to play. Hover your mouse over the game, which will display a lot of icons. Click on the "keyboard" icon to view default controllers settings that correspond to your keyboard keys. For example, A = Z, mean 'A' button on controller is equal to Z key on your keyboard. You can also change controller button to your specification.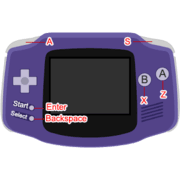 Default Keyboard Keys: Z / X / A / S / Arrows / Enter / Backspace
Figure out what which key does. Some do nothing.
Save progress by hovering your mouse over the game, which will display a  lot of icons at the bottom of the game, click the "Down Arrow Icon" to save  and come back later and load it up by clicking the "Up Arrow Icon".
You are currently playing Yu-Gi-Oh World Championship Tournament 2004 on KBH Games. One of many Strategy Games you can play. We have the best collection of Online Games from the most talented publishers and developers. Yu-Gi-Oh World Championship Tournament 2004 received 111 likes from our users. Everyday, we are dedicated to bring you latest Strategy Games for your entertianment from talented developers all over the world. KBHGames allow you to experience PC gaming right in your web browser. Enjoy our large array of Strategy, Arcade, Puzzle, Retro Games. We hope you enjoy your visit and make sure to come back for more fun games added everyday.