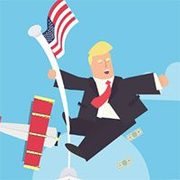 ► Play Game
Topple Trump
Guess the missing words in real quotes spoken by Presidential candidate Donald Trump.
Choose the answer that completes each of Trump's ill-judged comments.
Wrong answers gain points for the Republicans
Right answers gain points for the Democrats
Just like the real electoral college system, it's all about who gains a majority of the 538 available votes.
The party that reaches 270 points first, wins. (Watch out – some states are worth more than others!)
We're living in dangerous times. With the US presidential election looming, the orange-skinned, crazily-coiffured billionaire Donald Trump is drawing ever closer to the White House. Can you stop him?
Love him or loathe him, Donald Trump is a figure who has dominated 2016. His presidential campaign has driven the media narrative this year, with his talent for saying unthinkable things generating headline after headline. He's managed to utter so many offensive remarks – lurching from one outrageous claim to the next at breakneck speed – it's been almost impossible to keep up.
As Always, Good Luck and Have Fun.
↑