Add to favorites
Super Mario All-Stars
Include many different version of classic mario platform game.
As Always, Have Fun.
Instruction:
Saving the game is very easy, just use the menu on the bottom of the game or use the keyboard. Save  push [F5], and it'll save you to download the code to your desktop. To load the save code push [F8].<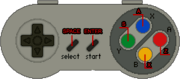 You might also Like
Super Mario All-Stars brought to you by KBH Games. Since 2007, we have served over 12,000 of the
best games
on the internet to our users. KBH Games is fun for all ages. Super Mario All-Stars has recieved 89.7% likes from 468 of our users and vistors. We are dedicated to bring our users the best games and the best gaming experience on the internet.