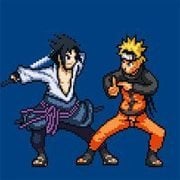 Add to Favorite
Bleach Vs Naruto 2.5
Do awesome battle between Heroes and Villains from Naruto and Bleach.
Bleach Vs Naruto 2.5 returns this time with Team Sasuke, called Taka, originally Hebi, is a team created by Sasuke Uchiha with the initial objective of locating Itachi Uchiha, and prevent anyone from interrupting his battle.
Team Sasuke include three team-mates, Suigetsu Hōzuki, Karin, and Jugo all available in Bleach Vs Naruto 2.5.
Jugo and Karin are added as playable characters and Suigetsu Hōzuki as supporting character.
On the Bleach side Soifon, commander-in-chief of the Onmitsukidō and the captain of the 2nd Division in the Gotei 13, also join the battle as a supporting character.
Play the latest version of Bleach Vs Naruto.
As Always, Good Luck and Have Fun.
Instruction:
Click on the flash game to make sure it's selected. Then use WASD and J to select character.
Default button:
= Player 1 =
A/D Move
S Defense
J attack
K jump
L sprint
U Far attack
I Special – must have enough mana
O Summon Assistance
Combos: S + J, S + U,, S + I, W + U, W + I, W + J
Quiet step: S + L, W + L
= Player 2==
← → move
↓ Defense
1 Attack
2 Jump
3 sprint
4 Far attack
5 Special – must have enough mana
6 Summon Assistance
Combo: ↓ + 1, ↓ + 4, ↓ + 5, ↑ + 1, ↑ +4, ↑ +5
Quiet step: ↓ + 3, ↑ + 3
Developed by 5dplay
You are now playing Bleach Vs Naruto 2.5 Game, a high quality Cartoon Games on KBH, for free. One of 16038 games listed on KBH. Part of our 2 Player Games, Action Games, Anime Games, Battle Games, Bleach vs Naruto Games, Cartoon Games, Crossover Games, Fighting Games, and TV Show Games gaming categories. If you enjoy playing Bleach Vs Naruto 2.5 online game, we also recommend you play Bleach Vs Naruto 2.6, Bleach vs Naruto 2.2, and Bleach Vs Naruto 3.1. Bleach Vs Naruto 2.5 has been liked by 351 people.
↑